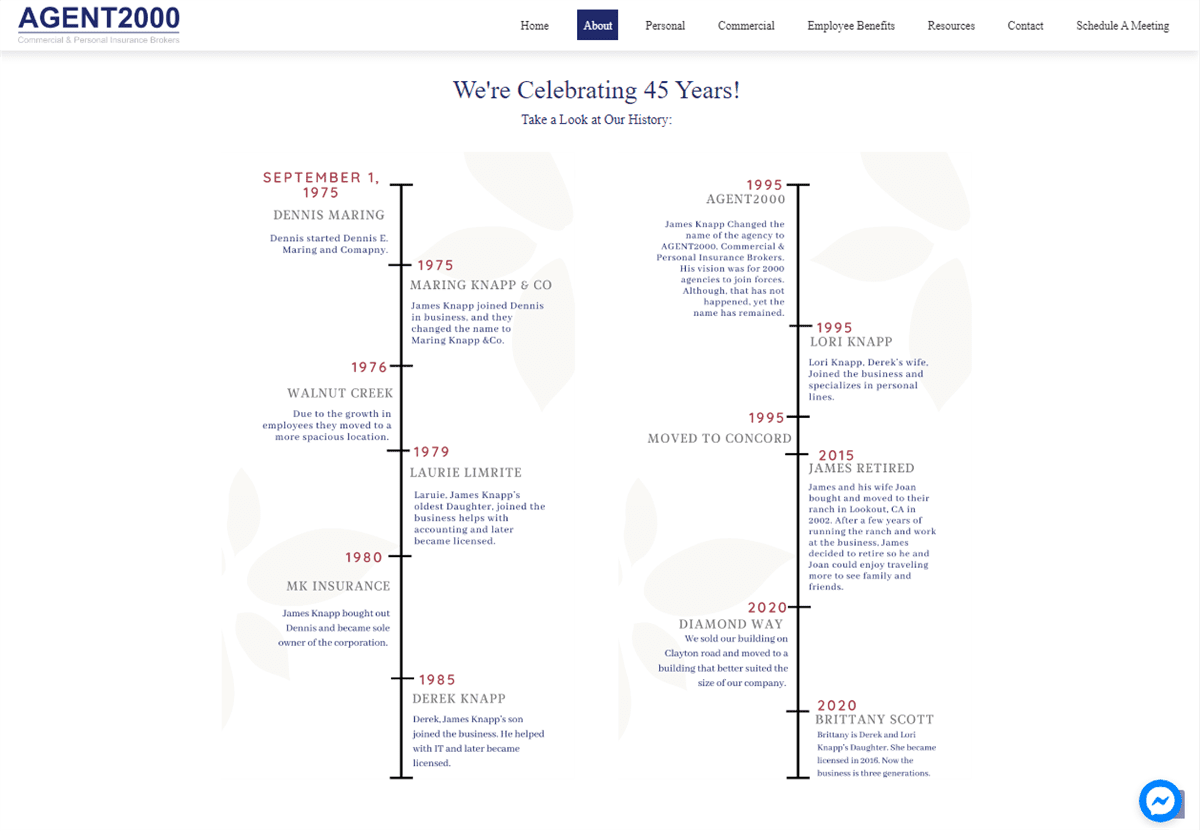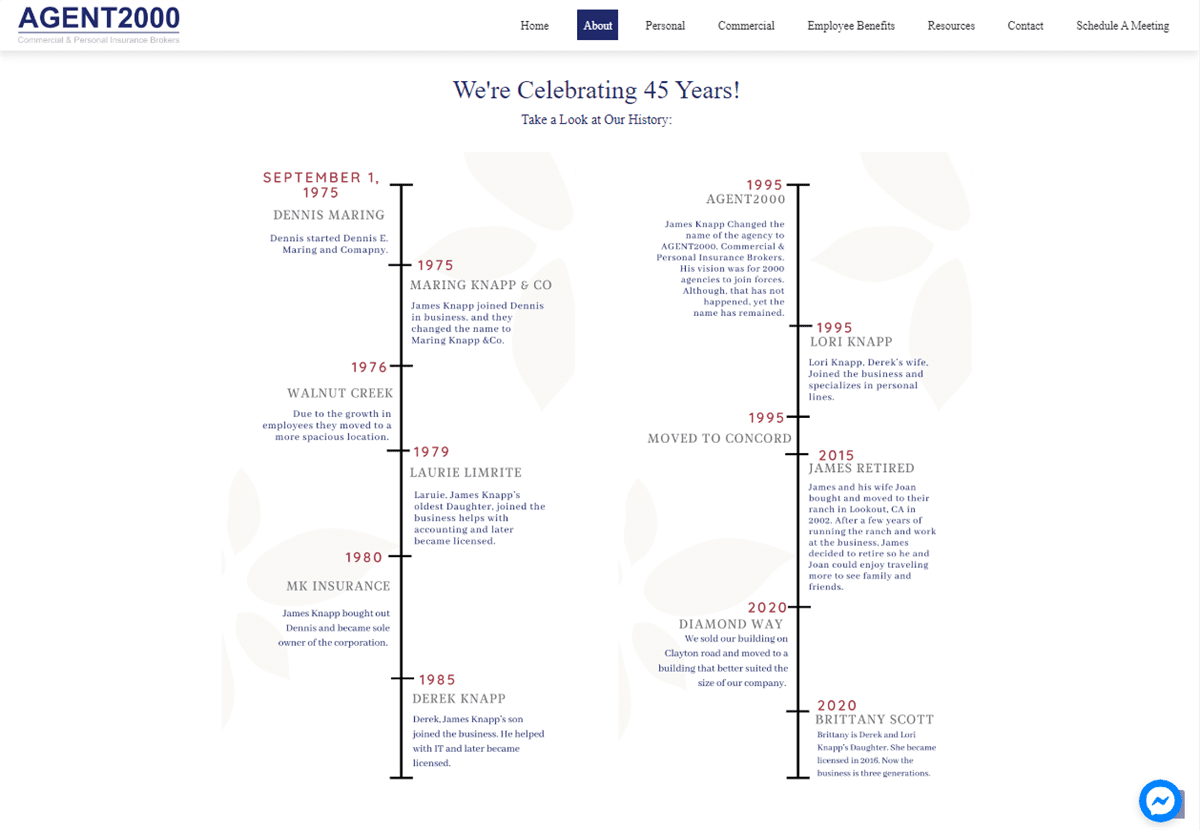 AGENT2000 Commercial & Personal Insurance Brokers Celebrates 45 years in business! A sincere thanks to all our clients and employees for all your support – we couldn't have done it without you.
Our agency now spans 3 generations. Brittany, is the granddaughter of founder, James Knapp. As the newest member of the team, she decided interviewed her grandfather to learn more about the both the challenges and the successes that AGENT2000 has been though:
Who started the agency? How did you meet?
Dennis Maring. We met when I was working for INA (the Insurance Company of North America) as a Commercial Agent. He had a one-man agency that we worked with. I decided to leave INA when leadership changed, and I didn't agree with the new Vice President who was appointed.
Can you give me a little history of the Business?
I propositioned Dennis to join him in business. He was extremely receptive. I agreed to not receive a salary for six months to prove that I was a good choice for a business partner. Within four months I was able to write a few large accounts and show that I was able to help grow the business. So, Dennis agreed to provide me with a salary. We then moved to a larger office because we added employees to help us service all our clients.
We started receiving propositions to purchase agencies and their book of business. We ended up with four locations and about 15- 20 employees.
In 1980, Dennis decided to leave the company to move to Sacramento. So, I bought him out as a partner and all the clients and assets stayed with the company. Then, I changed the name to MK Insurance.
We continued to grow and purchased a few more agencies and ended up with six locations. The economy, industry, and loss of large accounts has caused us to downsize over the years to one location in Concord.
How did you come up with Agent2000?
We needed a name that is more universal. Many agency clusters were being formed and my vision was for 2000 agencies to join forces. Although that has not happened the name has remained.
What makes Agent2000 unique?
Our customer service. We had referrals coming in left and right from current or former clients.
To what do you attribute your success?
What's most important, no matter the business is caring for the customer. That is something we made sure all our employees did. We work with many different companies to provide different options for our clients to better meet their insurance needs. Also, we are willing to write policies that were more complex, that some agencies steered clear of, allowed us to insure large accounts.
What kept you going through the good and bad days?
We knew we had to keep moving. We made the changes we needed to accommodate the growth or produced reduction. We handled the changes as they came.
If you had one piece of advice for someone just starting their own business, what would it be?
Be excited about what you do. Make sure you know your business and the industry you are in. And most importantly listen to your customers.
If you had one piece of advice for someone just starting out as an Insurance Agent, what would it be?
Take the position you are in, don't worry about the income that will come. Learn the position, different policies and coverages so you can best help the customer.
What do you see for the future holding for Agent2000?
I see the current owners participating in activities to grow the business. They are active in the community and with BNI groups. They need to make sure people know who we are and what we stand for.
Where do you see Agent2000 going in the next 5 years?
I am going to leave that up to the future of Agency. It's now up to the owners to grow it the way they see fit. I have put my wisdom and trust in Laurie and Derek to grow and continue the business I started all those years ago.